Each year, there are more than 3 million cases of skin cancer in the United States alone. The rate of skin cancer has increased so quickly, that more than half of all new cancers found every year are skin cancers. While this may be a shocking and even scary statistic, there are many things you can do to prevent and detect skin cancer with regular checkups at your dermatologist. Here are just a few reasons to schedule your Fall skin cancer check at Skin Cancer Specialists, PC & Aesthetic Center!
Prevention: During a skin care check, you will have the opportunity to learn about proper prevention strategies to reduce your chances of getting skin cancer. Some of these include:
Minimizing direct exposure to UV light
Wearing protective hats and clothing during peak UV hours
Using a reliable sunscreen
Avoiding tanning beds
Monthly self-checks
Early Detection: Identifying problems areas is the most important part of detecting skin cancer early on! Basal cell carcinoma and squamous cell carcinoma are two types of cancers that can be cured with early detection and treatment.
Better Treatment: When cancers or atypical cells are found early, there is a much higher rate of curability. While melanoma is a much more serious type of skin cancer due to its aggressive growth, this type of cancer can also be cured if found early.
Hidden Areas: There are a lot of spots on your body that can be hard for you to check on your own, including your scalp, behind your ears, and your back, to name a few. By scheduling a skin care check, you can rest assured that all parts of your skin are looked at, and any problem areas are made note of.
Skin Cancer Specialists, P. C. & Aesthetic Center proudly serves patients in the Marietta and surrounding Atlanta areas! To learn more about skin care checks, or to schedule your consultation at Skin Cancer Specialists, P. C. & Aesthetic Center, please fill out the form on this page or call (770) 422-5557 for Marietta, (770)-941-1013 for Austell, (707)-502-0202 for Newnan, and (770)-606-8026 for Cartersville.
Did you know that May is Skin Cancer Awareness Month? At Skin Cancer Specialists, P.C. & Aesthetic Center, we pride ourselves on educating clients on staying safe in the summer (and winter!) sun. We also offer clients a range of treatments designed to prevent, diagnose, and treat skin cancer.
Skin cancer is one of the fastest-growing cancers in the United States; the stat especially rings true for women under the age of 25, where skin cancer is one of the leading causes of death. However, not all skin cancer is created equal. Some types of skin cancer can be chronic, while others can be potentially fatal. Getting regular skin checks is the best way to detect and prevent skin cancer!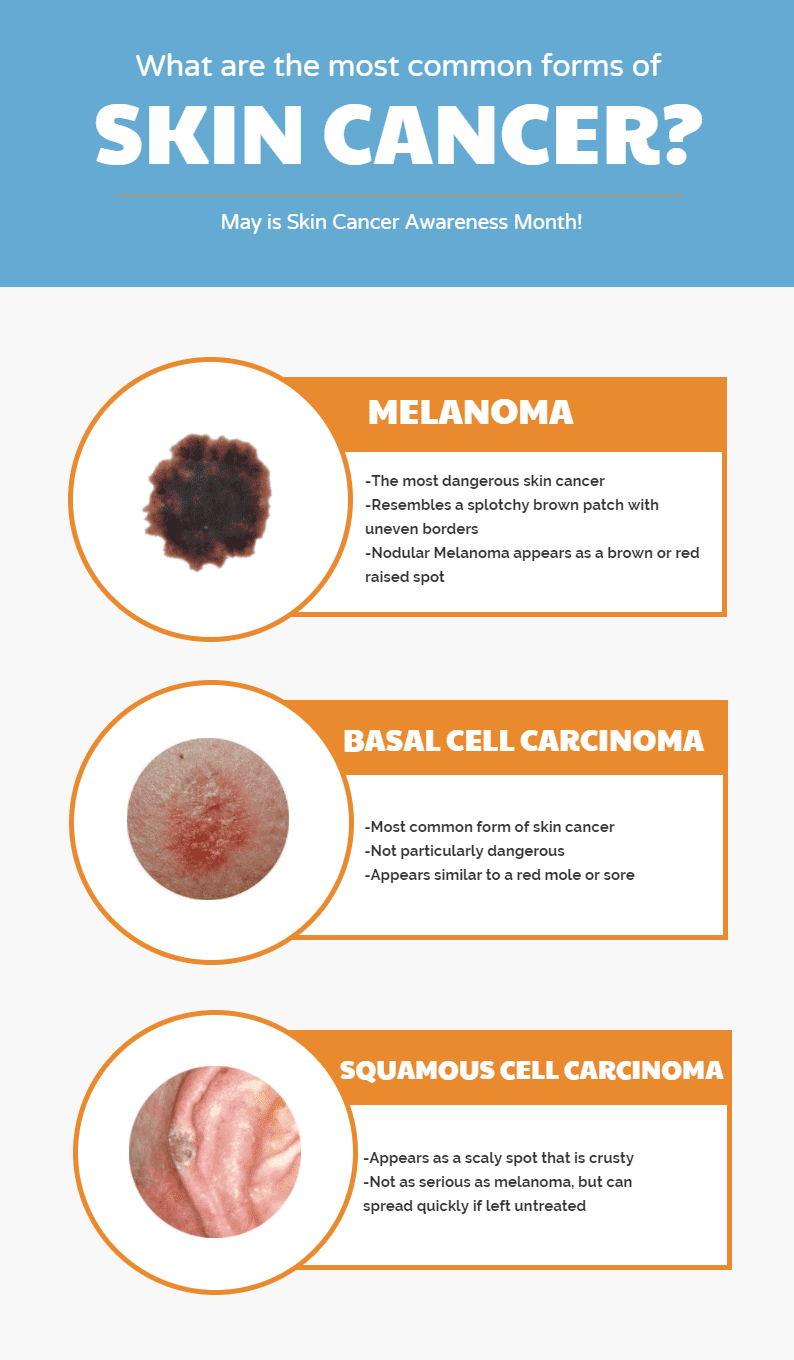 Take a look at the most common types of skin cancer, and how to spot their warning signs:
Melanoma: Melanoma is the most serious skin cancer, as it leads to the most fatalities. Part of the reason why melanoma is so dangerous is because it can quickly spread to other parts of the body. Melanoma resembles a splotchy brown patch with uneven borders. Nodular melanoma (which is more dangerous than common melanoma) appears as a brown or red raised spot. If you spot any of the following on your skin, it's important to see a dermatologist right away.
Basal cell carcinoma: This is the most common type of skin cancer; fortunately, it's not particularly dangerous. Basal cell skin cancer appears similar to a red mole or sore that doesn't go away.
Squamous cell carcinoma: This type of skin cancer appears as a scaly spot that appears crusty. While not as serious as melanoma, this type of skin cancer can quickly spread if left untreated.
At Skin Cancer Specialists, P.C. & Aesthetic Center, our dermatologists can identify, diagnose, and treat the most common types of skin cancer. To learn more about our skin cancer expertise, schedule a consultation at Skin Cancer Specialists, P.C. & Aesthetic Center today.